Mandie Brayley of Batavia has three children resuming school this fall, including two who start Monday in the Batavia City School District. She acknowledged being nervous – even skeptical at first – about sending her children back to school, but after learning details of how the district would present its hybrid was more agreeable to sending her daughter back to school.
"I feel as a parent I need to be cautious, but understanding, in what my children need," Brayley said. "Social interact is an important part of being a child."
One of her sons will be doing virtual learning.
"There were a lot of discussions about how to go about doing school this year," Brayley said, "and, as a family, we decided to do the best we could and go with the best version of normal as possible."
That normal will be very different from what families and schools are accustomed to as a new school year begins across the four-county GLOW region. The reopenings – some began last week, others follow this week – come amid many changes after schools closed to in-classroom learning in mid-March as a result of the COVID-19 pandemic .
This fall, schools are offering a combination of virtual or distance learning and in-classroom sessions. Some students will be fully virtual; others will follow a hybrid model of in-classroom learning on select days and remote learning on others.
"We have needed to make changes in every area of our school. Nothing has gone untouched," said Letchworth Central School Superintendent Todd Campbell.
Classrooms will see fewer students and fewer desks to allow for social distancing. The morning arrival routine will begin with health screenings, including temperature checks, and students, faculty and staff will wear face masks. Lunches may be in classrooms and teachers – not students – will transition between classrooms in some schools as districts seek to limit the potential for large gatherings of people.
Schools established guidelines, which may vary between districts, as part of a state-mandated school opening plan. Those plans ran dozens of pages and covered every aspect of the school day. And, district officials interviewed for this story said they expect adjustments to continue.
"The staff continues to find solutions each time a road block occurs," said Campbell. "The unions have been very supportive and have worked collaboratively to change schedules and brain storm creative ways to address each issue."
Letchworth, with a smaller student body, was able to offer in-person classes five days a week. There is also an option for 100 percent remote learning.
"We are not approaching this year with fear," Campbell said. "Our approach is to be well trained, well informed, accept personal responsibility for our decisions and adjust as we need each day.
"Our community is very supportive and understands the many steps we are taking to be safe," he said. "Every inch of this beautiful campus will be used to capacity … We will make this journey together and find a way to do it safely."
Transportation top challenge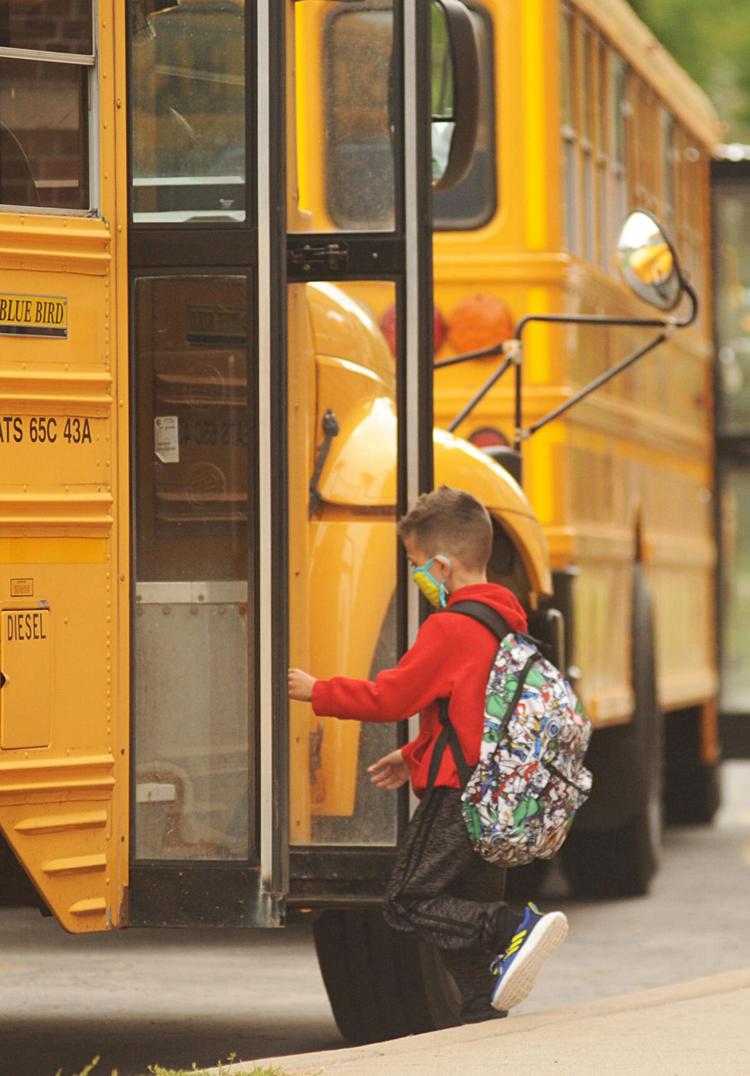 Even the journey to school each day is different. Districts are enacting social distancing measures on bus runs, cleaning buses after each run, increasing the number of buses in use and altering student pick-up and drop-off times.
Le Roy Central School District Superintendent Merritt Holly said transportation was the number one challenge facing his district.
Le Roy is maintaining two runs – one goes out for junior-senior high school students in the morning, returns, and then goes out for elementary students. The same pattern is followed in the afternoon.
"We've assigned drivers two separate buses," Holly said. "When they come back, they jump out of one bus, get into another in order to get time enough to get out here."
The superintendent, in an automated call to district families before school started, asked for patience and acknowledged the likelihood that bus runs may still need adjusting in the first weeks of school.
At Attica Central School, its 56-passenger buses will run at half capacity or left. Students from the same family are able to sit together.
"Attica is rural and big. We have lots of kids that take the bus," said District Superintendent Bryce Thompson. "Right now, we are able to accommodate everyone who needs transportation. However, if those parents who are choosing to drive their students right now change their mind come winter, we may have to find another solution. We'll tackle that obstacle if we have to."
New preparations
Continuing to adapt – be it to changing guidelines, or changing needs within a district – will likely be one of the ongoing themes for the 2020-2021 school year.
"The challenges we're facing are the constant changes we continue to be presented with, as well as, limitations such as following the six-foot distancing guidelines," said Thompson. "The health department, the education department, and the governor all have to agree on procedures as they move forward so it's challenging."
Attica is offering a hybrid learning model with the student body split into Orange and Blue groups, with students attending two days per week and every other Friday. One Friday per month will be a virtual learning day for all students. To help teachers and staff prepare, the district provided online training webinars for teachers and staff.
The first day of school for Attica is Monday, and comes after four days of in-school service by teachers and staff.
Many districts and teachers spent time preparing this summer that went beyond the usual curriculum decisions. Preparations across the region included meetings to talk about COVID-19 and ways to keep everybody safe, and also to keep buildings and buses clean and disinfected.
"I think we are doing everything possible to stay safe," said Antonio Madau, a teacher at John Kennedy Intermediary School, where a full week of meetings took place in anticipation of students returning on Monday.
"We're just going to continue to follow those guidelines, those protocols to keep everyone safe," Madau said.
Teachers also spent time on a social-emotional learning piece to make sure students feel welcome and supported when they come back.
In Le Roy, students returned to the junior-senior high school on Friday to find sticky notes on each locker offering an inspirational message such as "Learn from yesterday, live for today and hope for tomorrow."
The notes are a tradition created by members of the district's Emerging Knights Student Leadership Team.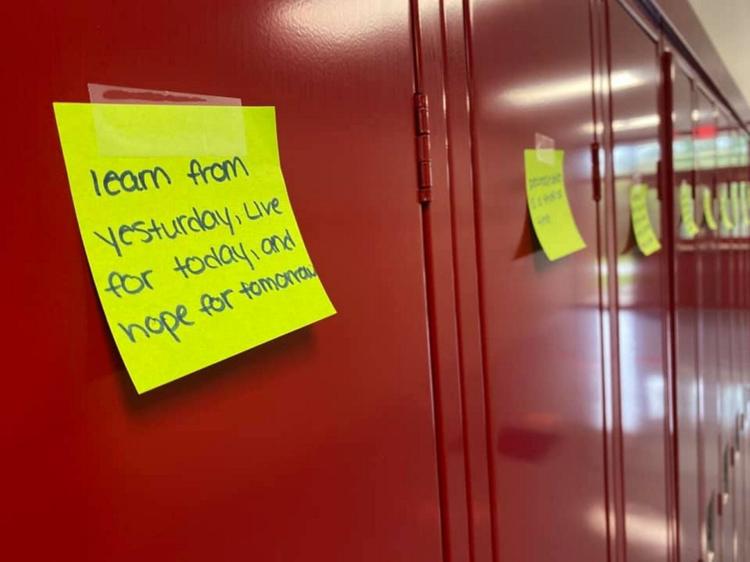 "They are notes of encouragement and inspiration for our students and they usually hang for many weeks," said Junior-Senior High School Principal Tim McArdle. "It is a small gesture but, one that models the care and respect that we want all of our Knights to have towards each other every day."
Teachers become students
Many districts offered training and workshops to help teachers be ready for hybrid and all-virtual learning models this year.
"Preparation for virtual learning involves finding and learning how to use effective programs and extensions online," said Batavia High School English teacher Jeffrey Tress. "It's a cliché, but the possibilities are endless."
In Batavia, Madau said teachers set up Google Classroom as a central learning hub and have incorporated other instructional tools for reading and math that can offer tailored lessons for individual students.
"We set up for this job because we like people. We like interacting with people. That's not a decision we have this year," Madau said. "We're going to make the best we can of this situation and make online learning work."
Le Roy offered professional development programs with the district's "tech coach" Jen Bertrand to help teachers prepare for remote learning.
"Our teachers are adapting to creating quality instruction that will continue at home," said Junior-Senior High School Principal Tim McArdle. "There's a lot of creativity, a lot of focus on engaging of students."
One of those teachers is 11th-grade English teacher Nichole Bradley, who said in-person learning is often easier than remote learning because of the personal connection between students and teachers. During remote learning, she said, "you have everyone there, but you have to be a lot more deliberate and you can't just work spontaneously like you can with in-person."
In class, students will often build off comments made by other students. Bradley said that online, students are less likely to unmute their computer to contribute to class.
"The types of activities that you have to pick when you're teaching virtually are a lot different than in class," she said. "You need to make sure you're preparing them for the independent work for the following two days."
Those activities may include a TEDx talk, a program focusing on technology, entertainment or design; or a pre-recorded lesson from a teacher such as a lecture or a lesson that models skills for the students. The students are able to watch on their own and then come to class ready to apply what they've learned, Bradley said.
Bradley, who also teaches an Advanced Placement Language and Composition course, acknowledged some nerves and uncertainty about the new year, but said that once it actually started she got more comfortable.
"I think with a lot of teachers it was nerves about how the year was going to start and just what to expect. As teachers, we like structure and this was a new thing for us. I'm not nearly as nervous as I was before. You can only prevent so much, but everybody's doing their part," she said, noting students' willingness to wear masks and adhere to social distancing. "It's as safe as it can be. I really think that right now."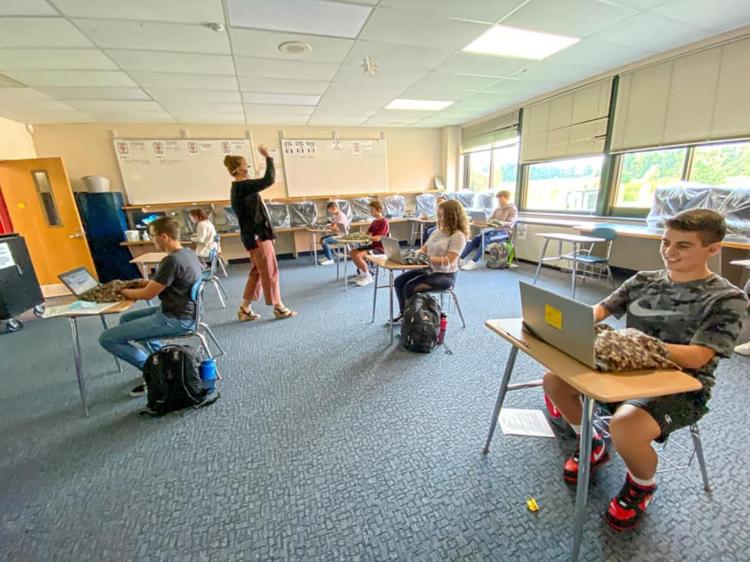 Classes resuming
Le Roy was among the districts that started last week. The district has assigned students to one of two teams – Oatka and Jell-O – and has divided the days they are in school, allowing for about half the student body to be present at one time. Team Oatka began classes on Thursday and Friday. Students in Team Jell-O will begin Monday and continue Tuesday. Wednesday will be a day of remote classes for all students using the Zoom video conference platform.
"Coming back is not bad. It's better than sitting at home," said Austin Biggins, a Le Roy junior. "I feel we all just need get out of the house. I feel the school did a good job separating us into two teams so that we can all go to school instead of having to be at home."
Addison Tonzi, a seventh-grade student, was eager to return, though she acknowledge that being new to the high school building meant a little trouble finding a couple classrooms. She said she was appreciative of the help from her peer counselor.
"It's been kind of a 'getting to know you' thing," she said. "Just trying to figure out the new school with this switch."
The first two days of school helped set expectations for students. Leading up to the reopening, Le Roy released a series of videos call "A Day in the Life of a Knight" to teach its seventh through 12th grade students the new logistics of school.
"I think overall we're very, very happy with how the school year started. With the social distancing requirements, students were awesome in wearing masks," said Holly, the superintendent. "Our teachers have worked really hard to switch around everything they have normally done over their time and their career."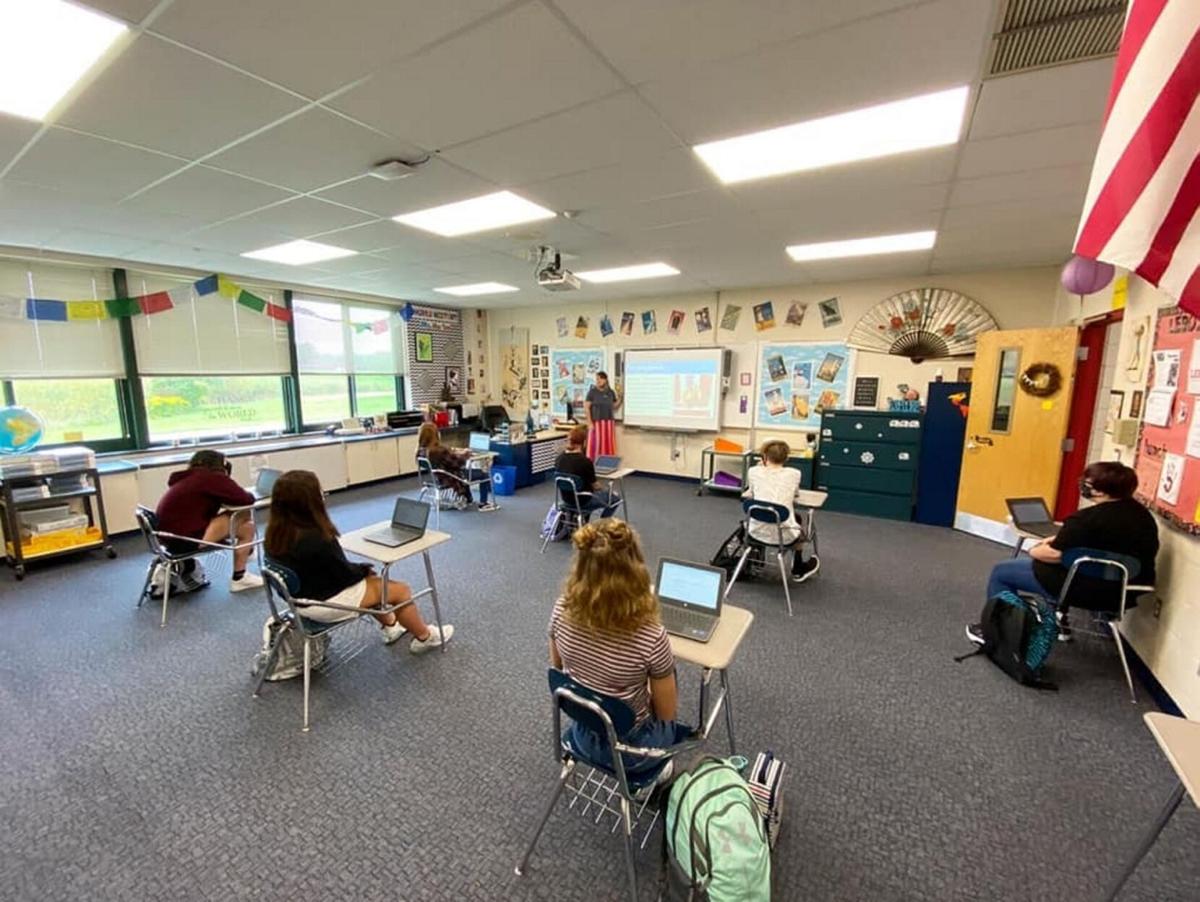 Classes began Wednesday at Notre Dame High School in Batavia, which was adding seventh- and eighth-grade students for the first time. The district has been able to offer a full week of classroom learning.
"Five days of in-person (learning) is what kids are used to and what teachers are used to. It's a routine. At least the socialization piece is good for kids," said Principal Wade Bianco.
Notre Dame students Mark Sanders Jr., a senior, and Cody Henry, a junior, were both excited about returning to school, though they acknowledged disappointment that football season was moved to spring.
"I haven't seen most of my friends since mid-March. I knew it was going to be different going back," Mark said, noting his family purchased extra masks and hand sanitizer as part of its usual back-to-school shopping. "I got used to it pretty quickly."
In addition to masks and social distancing, Notre Dame is allowing students to carry backpacks with them from class to class. The goal is to have fewer students gathering around lockers.
Mark said the school's Zoom sessions that explained guidelines and precautions for the school year were helpful, but he wouldn't want to do online sessions for class. He said he likes in-person learning best.
"I feel like I can learn better with a teacher in the room," he said.
Cody said he also prefers the classroom over remote learning.
"I'm in school to prepare for college, work on my SAT scores. Going to school two or three days a week and online the rest of the time is not going to cut it. It's not practical," Cody said.
Choosing virtual
Some families have chosen to go with the virtual learning models their districts offered.
Deana Wagner of Bergen has a son who is a sophomore at Byron-Bergen High School and a daughter in fourth-grade at Byron-Bergen Elementary School. Both start school Monday. They are both learning remotely.
"We are not comfortable sending our kids into school right now when so much with this pandemic is so uncertain, and a vaccine is still not available," she said.
April Brown, a mother of three, including two who attend Letchworth, elected to keep her children home and pursue remote learning for the fall semester. The Browns created a classroom in their home last spring.
"I'm nervous about constant quarantine if COVID starts spreading. I am thinking school will shut down again, especially since we're starting to see it in colleges," she said. "My kids hate masks and making them wear one until the teacher allows them to remove it was a big no, too.
"I'm hoping for normalcy at some point," she said. "At this point, I think we're just taking it day by day."
Staff writers Brian Quinn, Kori Sciandra and Brendan McDonough contributed to this report.